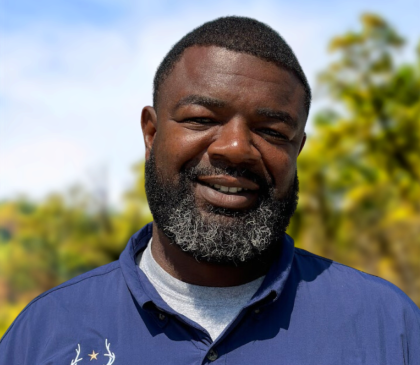 Daniel Foster
PATHH Guide
Daniel was born and raised in Gaffney, South Carolina. Like many kids, he played outside, rode bicycles, and participated in many sports, including basketball, football, and track and field. Daniel was raised by a single parent. Growing up in poverty, Daniel never realized they were poor or had less than others. He visualized himself as just another one of the kids in the neighborhood having fun and going in the house before the streetlights came on.
After graduating high school in 1994, Daniel attended Spartanburg Methodist College, where he majored in early childhood development with aspirations of one day opening a daycare. After two years of college, Daniel joined the United States Army in 1998, where he became an engineer. Daniel served on active duty for a total of 10. With several combat tours under his belt, he left the military and took his chances at civilian life. At this time, he attended Limestone College, where he received a bachelors degree in psychology. In 2010 he would go into the public school system, work as a graduation coach, and later become an at-risk coordinator until May 2022. In 2020 the covid-19 pandemic took place, bringing the world to a halt. Like many, Daniel and his family fell victim to the covid-19 virus, losing many of his immediate family members to the virus. As one could imagine, this had a very adverse effect on him.
By 2022 Daniel left the school system, the Public School District, but still had a need and a desire to be a part of the Human Service. Today Daniel enjoys spending time with family wife, four daughters, and son Emmanuel. Daniel spends much of his time coaching youth sports and advocating for those silenced by life's traumas.
Give strength & hope to those who serve
Your support powers life-changing programs offered at no charge to veterans, military, first responders, and their families. With your help, our Warriors won't just survive — they'll thrive.
Proud to be a top-rated nonprofit organization