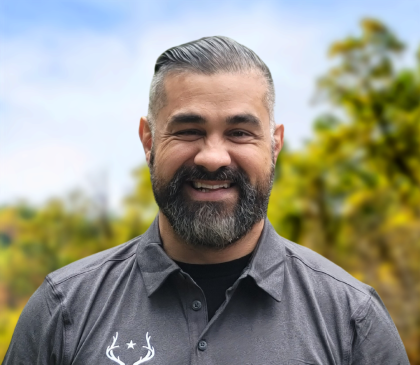 RJ St. John was born in California but grew up in northern Minnesota hunting, fishing and camping in the remote wildernesses of the BWCA. Playing hockey, baseball and football all through his senior year, he decided at an early age that the military was where he was supposed to be and enlisted in the United States Marine Corps. After a short stint due to injury, he ended up in the Air Force with a Security Forces squadron as a heavy weapons expert and instructor with deployments to both Iraq and Afghanistan. After his last tour in 2011 he decided some changes were in order and in 2013 went through a VA program to get sober and found himself working for the State Department, where he ended up as a sergeant with Diplomatic Security for several years. In 2023 he went through the PATHH program in Georgia where he decided that he wanted to serve other veterans and first responders in the same program.
He has been playing rugby for the past 16 years where he has been a mentor and coach for local college and high school teams as well as his own. He still shoulders a pack to wander into the depths of the Wyoming, Montana or Colorado wilderness with his brother, and is always looking for another great adventure to experience.
Give strength & hope to those who serve
Your support powers life-changing programs offered at no charge to veterans, military, first responders, and their families. With your help, our Warriors won't just survive — they'll thrive.
Proud to be a top-rated nonprofit organization