Boulder Crest Foundation leads the development of the science of Posttraumatic Growth, guided by the founder of PTG, and our Distinguished Chair, Dr. Richard Tedeschi. As the first organization to ever develop and deliver Posttraumatic Growth-based programs, Boulder Crest continues to innovate, enhance, and expand the field of study of PTG.
What is Posttraumatic Growth?
Posttraumatic Growth is the basis for all aspects of our work, and reflects thousands of years of understanding, decades of research, and years of application and operationalization at the Boulder Crest Foundation.
The underlying concepts of PTG are as old as organized religion. In Romans 5:3-5, it is said, "Not only so, but we also glory in our sufferings, because we know that suffering produces perseverance; perseverance, character; and character, hope."
From Hinduism to Buddhism, Islam to Judaism, Catholicism to other forms of Christianity, the idea that life is full of suffering is a foundational element of all faiths. The only question, therefore, is what to do about it.
In the words of Viktor Frankl, a Holocaust survivor, psychiatrist, and the author of Man's Search for Meaning, "Everything can be taken from a man but one thing: the last of the human freedoms — to choose one's attitude in any given set of circumstances, to choose one's own way."
At the core of PTG, and Warrior PATHH, is restoring the element of choice to life, and learning to respond, rather than react, to life's ups and downs. In the process, lessons are learned — about the world and, more importantly, about oneself. The challenge and obligation is then to share those lessons in service to others. This idea, that life is a classroom, is reflected in our definition of a hero: A hero is an ordinary person who survives an extraordinary experience and returns to share important truths about life that they learned, so they can enrich the lives of others.
In 1995, after a decade of research and clinical work focused on trauma survivors, UNC-Charlotte professors and psychologists Richard Tedeschi and Lawrence Calhoun coined the term Posttraumatic Growth. Their initial research and work included people who had suffered disabilities in adulthood, bereaved older adults, and bereaved parents, many of whom were able to describe ways that they had been transformed in the aftermath of their traumas. They were living lives that had a greater sense of purpose, emotional depth, and wisdom. The term Posttraumatic Growth seemed to capture the themes of positive change found in their stories. Drs. Tedeschi and Calhoun used their statements to create a research instrument that has subsequently been used by hundreds of researchers around the world, helping to shape our understanding of how PTG occurs, and how to encourage it in trauma survivors.
As Tedeschi and Calhoun researched precedent for what they had discovered, they encountered what is possibly the greatest story of PTG — that of the 591 men who were Prisoners of War in North Vietnam for between 2.5 months to 8.5 years. While mental health experts anticipated that the men would return home psychotic and destined to live their lives in institutions, the truth was very different. Only 4% of these men would struggle with PTSD (compared to 30% of all Vietnam veterans), while 80% would end up better off because of their experiences. The military tracks these men to this day, and versus a comparable group of Naval aviators that were not shot down, the POWs live better lives on every measure of life — from physical health to emotional health, from the quality of their relationships to their sense of life satisfaction.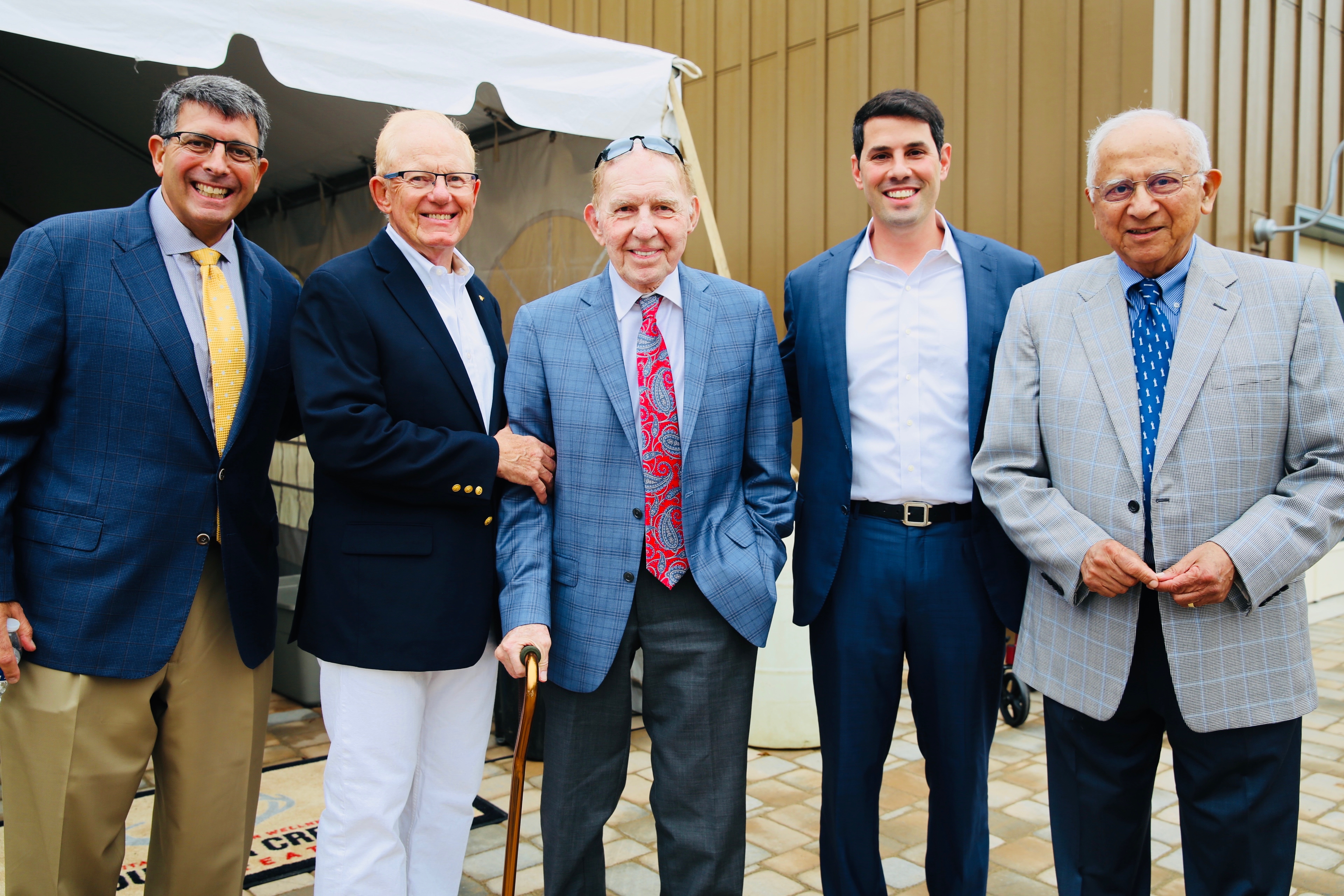 Ken Falke, Charlie Plumb (6-Year Hanoi Hilton POW), Jerry Coffee (7-Year Hanoi Hilton POW), Josh Goldberg,
and Everett Alvarez, Jr. (8.5-Year Hanoi Hilton POW and POW#1)
As the Distinguished Chair of the Boulder Crest Institute for PTG, Tedeschi continues to further develop the science of PTG, and has published numerous articles and books on the subject.
Boulder Crest Foundation and Posttraumatic Growth
Boulder Crest Foundation is the first organization to ever develop and deliver programs based on the science of Posttraumatic Growth. These programs, known as PATHH (Progressive and Alternative Training for Healing Heroes), include Warrior PATHH, SW:S PATHH, and Family PATHH; and serve combat veterans and first responders and their family members.