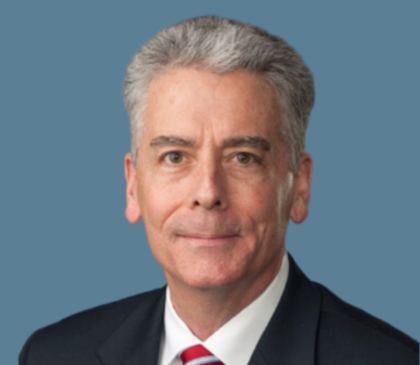 Frank Larkin
Frank Larkin is a board member of Boulder Crest. He is a national advocate for veteran suicide prevention and military traumatic brain injury research. Frank is also aligned with several other non-profit organizations working to positively impact the health and survivability of our veterans and first responders. He recently served as the vice president for corporate development at SAP National Security Services. Frank was the 40th United States Senate Sergeant at Arms. As chief law enforcement and executive officer of the Senate, the Sergeant at Arms enforces rules of the Senate; provides a range of technical and administrative services to Senators in their Washington D.C., and state offices; and maintains security in the Capitol and Senate office buildings. He had direct oversight of the US Capitol Police Department, a 2200-member agency, and led numerous national security events.
Frank was a member of the federal Senior Executive Service for almost 15 years, serving as both the Acting Director and the Vice Director of Joint Improvised Explosive Device Defeat Organization (JIEDDO) and Director of the Counter IED Operations-Intelligence Integration Center (COIC) within the Department of Defense. He led the integration of technical capabilities, information analysis and human resources against the global IED threat and terror networks.
Frank served for more than two decades as a special agent and senior leader in the United States Secret Service (USSS). He conducted complex criminal investigations and protected four US presidents, until his retirement as the Deputy Assistant Director for Protective Research and the agency's Chief Technology Officer.
In the private sector, Frank continued to support the defense and intelligence communities. He recently was the Vice President for Corporate Development at SAP National Security Services. In the past, he was the Director for Program Management & Leadership for the Raytheon Company and Senior Program Manager at Lockheed Martin's Defense & Intelligence Solutions.
A veteran of the U.S. Navy, Frank served as a special warfare operator in the Navy SEALs. After his military service, he was a uniformed patrol officer with the Norristown (PA) Police Department, a homicide detective with the Montgomery County (PA) District Attorney's Office, and a Maryland State Trooper-Flight Paramedic. He has been a nationally licensed paramedic for 40 years and still serves Maryland as a volunteer firefighter-paramedic for the City of Annapolis.
Frank holds a BA degree in criminal justice and a MS degree in public administration from Villanova University. He is the recipient of numerous awards, to include the USSS Valor award, the Department of the Army's Exceptional Civilian Service award and the Superior Civilian Service award.
Give strength & hope to those who serve
Your support powers life-changing programs offered at no charge to veterans, military, first responders, and their families. With your help, our Warriors won't just survive — they'll thrive.
Proud to be a top-rated nonprofit organization