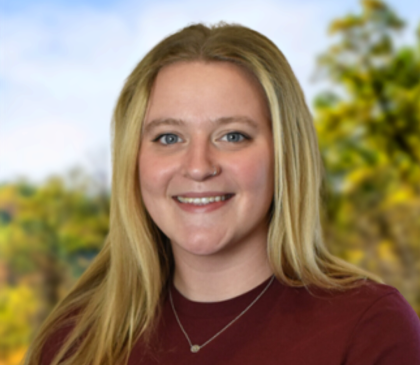 Kyra Pooley
Community Outreach & Fundraising Coordinator
Kyra Pooley joined the Office of Development as the Community Outreach and Fundraising Coordinator.
Kyra is a Loudoun County native. Following her time at Potomac Falls High School, she attended Flagler College in St. Augustine, Florida. Kyra graduated in 2021 with a bachelor's degree in strategic communication/public relations.
Although Kyra just started in 2021, she has followed us for many years and volunteered on site before Boulder Crest Virginia broke ground. She has been an active volunteer in both Loudoun County and St. Augustine, FL. Kyra has always done her best to help others, give back, and get involved in the community. After completing a nonprofit internship, in fundraising for a small animal rescue organization, she knew that she wanted to work in the nonprofit world.
Kyra comes from a strong military family, and possesses great respect for our country, Veterans, and First Responders. She is very inspired by our mission and proud to be a part of the Boulder Crest team. In her free time, Kyra enjoys kayaking, snowboarding, hiking, playing the ukulele, and spending time with friends and family.
Give strength & hope to those who serve
Your support powers life-changing programs offered at no charge to veterans, military, first responders, and their families. With your help, our Warriors won't just survive — they'll thrive.
Proud to be a top-rated nonprofit organization