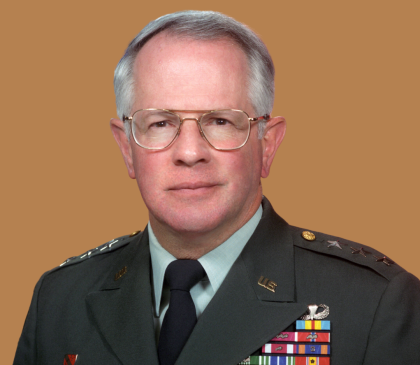 Lieutenant General John A. Dubia (Ret.) U.S. Army
Lieutenant General John A. Dubia attended Georgetown University prior to entering the United States Military Academy, graduating in 1966 as a Lieutenant of Field Artillery. General Dubia's 14 years of troop assignments include command of three artillery batteries, two in the 2nd Armored Division, and one in combat with the 1st Infantry Division in Vietnam. He commanded a direct support artillery battalion in the 1st Armored Division in Germany, and as a Colonel, the Division Artillery of the 1st Armored Division.
Later, General Dubia served as Commanding General of the United States Army Field Artillery Center and Commandant of the Field Artillery School. He also held key staff positions with troops at the battalion, brigade and division levels, to include Brigade Fire Support Officer in combat with the 1st Infantry Division in Vietnam, Division Artillery Operations Officer and Division Personnel Officer in the 1st Armored Division in Germany. Other key staff assignments included Director of Officer Personnel, U.S. Army, Executive Secretary to SECDEF Dick Cheney during Operations Desert Shield/Desert Storm; and later, Lieutenant General Dubia culminated his career as Director of the Army Staff.
Upon retirement from Active Duty in the Fall of 1999, General Dubia joined the Armed Forces Communications and Electronic Association (AFCEA) International as Vice President for Operations, later becoming Executive Vice President. His responsibilities included developing elements of program content for National and International conferences as well as interfacing with senior leaders of the Department of Defense (Military and Civilian), Department of Homeland Security, NATO, International Ministries of Defense and Industry Executives from many of the more than 1,900 corporate members of AFCEA International across the Globe.
General Dubia's military education includes the Field Artillery and Infantry Officer Advanced Courses, Command and General Staff College and the Industrial College of the Armed Forces. His civilian education includes a Master's in Business Administration from the University of South Dakota and completion of the Advanced Management Program at Rutgers University School of Business.
Give strength & hope to those who serve
Your support powers life-changing programs offered at no charge to veterans, military, first responders, and their families. With your help, our Warriors won't just survive — they'll thrive.
Proud to be a top-rated nonprofit organization