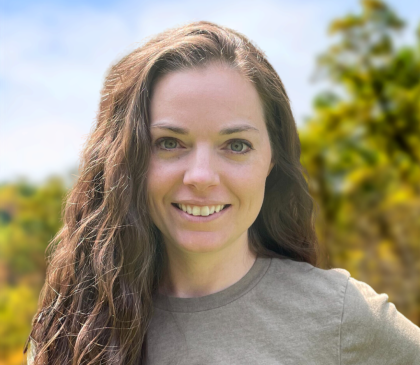 Clair Ritchie
Marketing & Communications Specialist
Clair was born and raised in the DMV area, graduating from Loudoun Valley High School in Purcellville. She was a member of the Boulder Crest team in 2013 as the Guest Relations Specialist, leaving in 2015 to manage Operations and Human Resources at Shirley Contracting Company. While most of her life was spent in Western Loudoun County, she recently spent 3 years in Salt Lake City, Utah, working in support of Nexant, Inc.s executive team, as well as their Marketing, Legal, Business Operations, and Human Resources teams. She relocated back home in 2020 and made her return to the non-profit world taking on the position of Operations Specialist for Loudoun Habitat for Humanity where she wore many hats handling daily operations and supporting Events, Marketing, and the Homeownership/Home Repair Programs.
While she will miss working with Habitat, Clair is excited to make this move back to the Boulder Crest Foundation. Aside from having a personal connection from her previous time with us, Clair is the daughter of two Air Force Veterans, and the wife of a retired Army Paratrooper/PATHH Program Alum, and has seen firsthand the difference between struggling veterans who have been lucky enough to benefit from the programs at Boulder Crest, and struggling veterans who did not have these programs available. She is eager to join an organization that has affected such a positive impact on veteran and first responder lives.
In her free time, Clair can be found at home with her husband, kids, dogs, and cats. They enjoy going on drives to explore new places, and taking day trips to the beach (everyone except the cats).
Give strength & hope to those who serve
Your support powers life-changing programs offered at no charge to veterans, military, first responders, and their families. With your help, our Warriors won't just survive — they'll thrive.
Proud to be a top-rated nonprofit organization