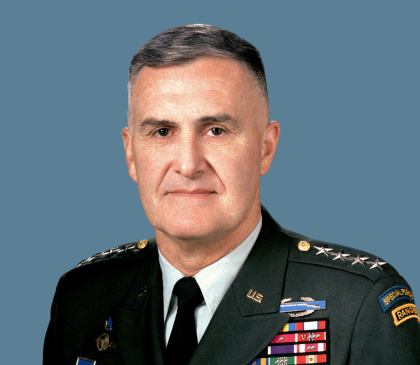 General Hugh Shelton
(Ret.) U.S. Army
General Henry Shelton is a 38 year veteran of the United States Army who, in 1996, was promoted to general and became Commander in Chief of the U.S. Special Operations Command. He then became the 14th Chairman of the Joint Chiefs of Staff in 1997. General Shelton has been honored with various military awards including four Defense Distinguished Service Medals, two Army Distinguished Service Medals, the Legion of Merit, the Bronze Star Medal for Valor, and the Purple Heart. Congress bestowed the Congressional Gold Medal on him in 2002. He currently holds board seats in a number of Fortune 500 companies.
Give strength & hope to those who serve
Your support powers life-changing programs offered at no charge to veterans, military, first responders, and their families. With your help, our Warriors won't just survive — they'll thrive.
Proud to be a top-rated nonprofit organization