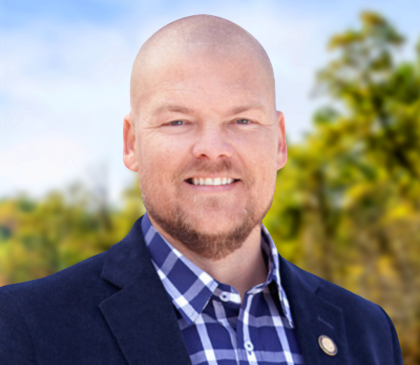 Joe Wood
Executive Director - Arizona
Joe is the Executive Director of Boulder Crest Foundation's 130-acre ranch in Sonoita, Arizona. He leads a staff of amazing people in the upkeep, improvement, management of the place and the programs that happen there. Every year, hundreds of our nation's heroes visit the ranch for rest, reconnection, and training experiences in the science of Posttraumatic Growth (PTG).
Joe came to Boulder Crest Foundation after 9 years in the U.S. Army's Intelligence Corps and 10 years of serving the military in advisory, consulting, and leadership positions with multiple Government Contracting companies. He is a certified Master Instructor and Training Developer for the Army and – through his work at Boulder Crest – continues to serve Active Duty Soldiers from Fort Huachuca, Active and Reserve Airmen from Davis-Monthan Air Force Base and Luke Air Force Base, and service members from around the world in a variety of programs.
Joe was born and raised in North-Central Florida. Leaving home two weeks after graduating high school, he traveled around the world in service of his country and its mission as an Geospatial Imagery Analyst and leader – serving a hardship tour in Korea in 2000, deploying to Iraq in 2004, and serving on an aircraft carrier in the Pacific in 2005 (amongst other assignments).
In addition to serving as Executive Director in Arizona, Joe continues to support many of Boulder Crest's efforts to create and expand programs nationally. Joe facilitates regular Struggle Well programs throughout Arizona, is regularly invited to be a speaker and/or panelist at military, veteran, and first responder events, and serves in multiple leadership and volunteer capacities for local nonprofits. Joe is currently the Honorary Commander for the U.S. Air Force's 612th Theater Operations Group and serves on the Advisory Council for the Cochise Serving Veterans organization.
His recent honors and awards include the Arizona Veterans Hall of Fame, the FBI Community Service Award, HillVets 100, Sierra Vista 20 Under 40, and the LTC Knowlton Award. Joe is also a Warrior PATHH Alumni since 2018 and a Master Guide for both Warrior PATHH and Struggle Well programs.
Give strength & hope to those who serve
Your support powers life-changing programs offered at no charge to veterans, military, first responders, and their families. With your help, our Warriors won't just survive — they'll thrive.
Proud to be a top-rated nonprofit organization